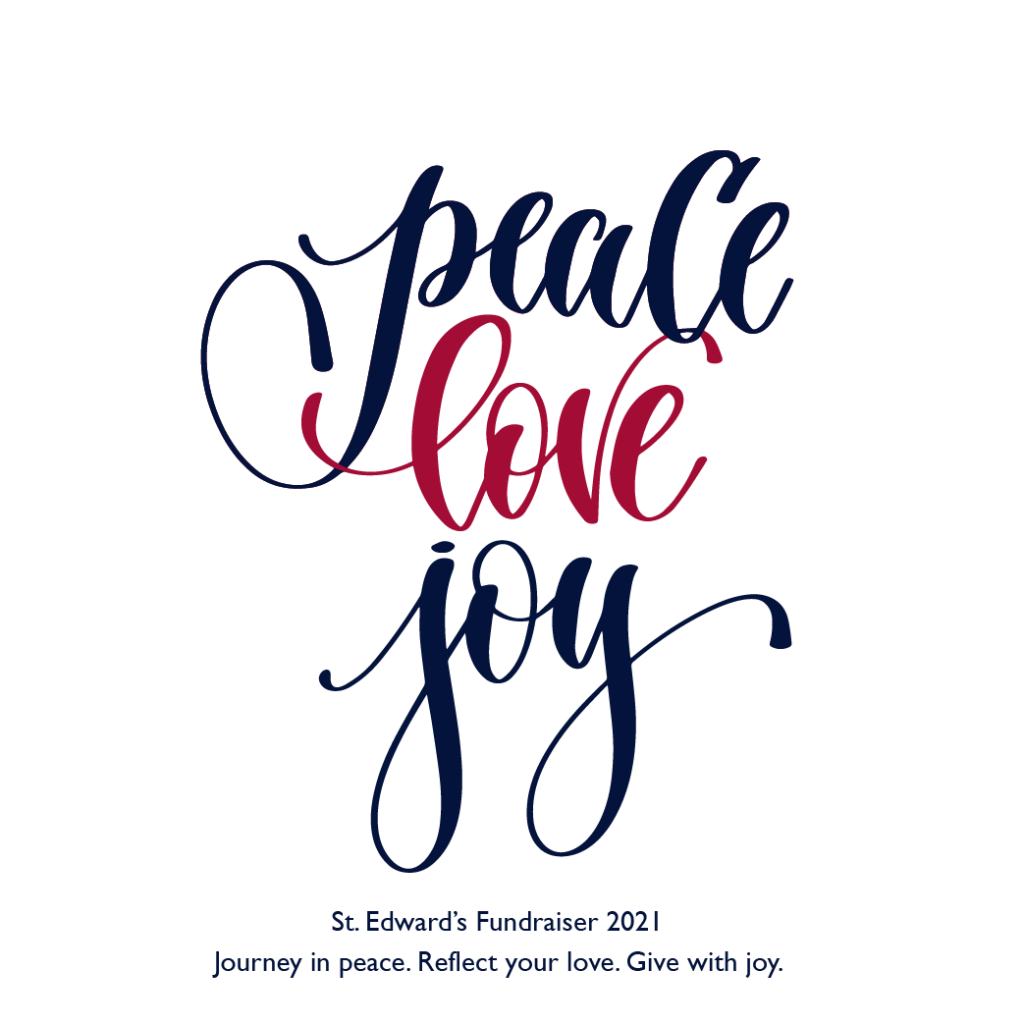 We are excited to announce our Fall Fundraiser Event. This year, we will be holding our basket raffle as our main event. It will be filled with fun and surprises as we take the entire month of October and harvest peace, love, and joy for the next season we are about to enter.
Save these important dates:
September 19th – Baskets are due.
October 3rd – October 31st: Baskets are available for viewing and for purchasing raffle tickets to take a chance on winning!
Our basket raffle would not be possible without the creativity, inspiration, and generous donations of our parishioners and friends of St. Edward's. We are so thankful to ALL who support this very important fundraising event each year for the ministry of St. Edward's.
---
Our 2020 Fall Fundraiser and Variety Show was a success!
Click here to watch it, again!
We are so thankful to all the many volunteers, basket raffle donors, basket raffle & dinner ticket buyers, and our talented parish family for their entertainment offerings. It is truly a blessing that, for this year, in our season of Covidtide, the Cultural Events Committee, in combination with the Fundraising Committee, not only raised over $5,000, but thought out-of-the-box to create an entertainment offering that allowed us to be together (virtually), as a parish, sharing our talents, all while raising money for our ministry. It is a testament to our faith and to the infused spirit of our St. Edward's community.
It is in this spirit, that we give heartfelt thanks to Father Rick, for his spiritual guidance & faithfulness, every day and in every way, to the people of St. Edward's, as well as to our wider community. We are blessed by his amazing talents and ever so grateful for his technology savvy! It is a good and joyful thing to bring to all of you, and our wider community, our virtual services and events, keeping us connected to each other and strengthening us in faith, hope, and love. Amen!
2020 ST. EDWARD'S ANNUAL BASKET RAFFLE & VARIETY SHOW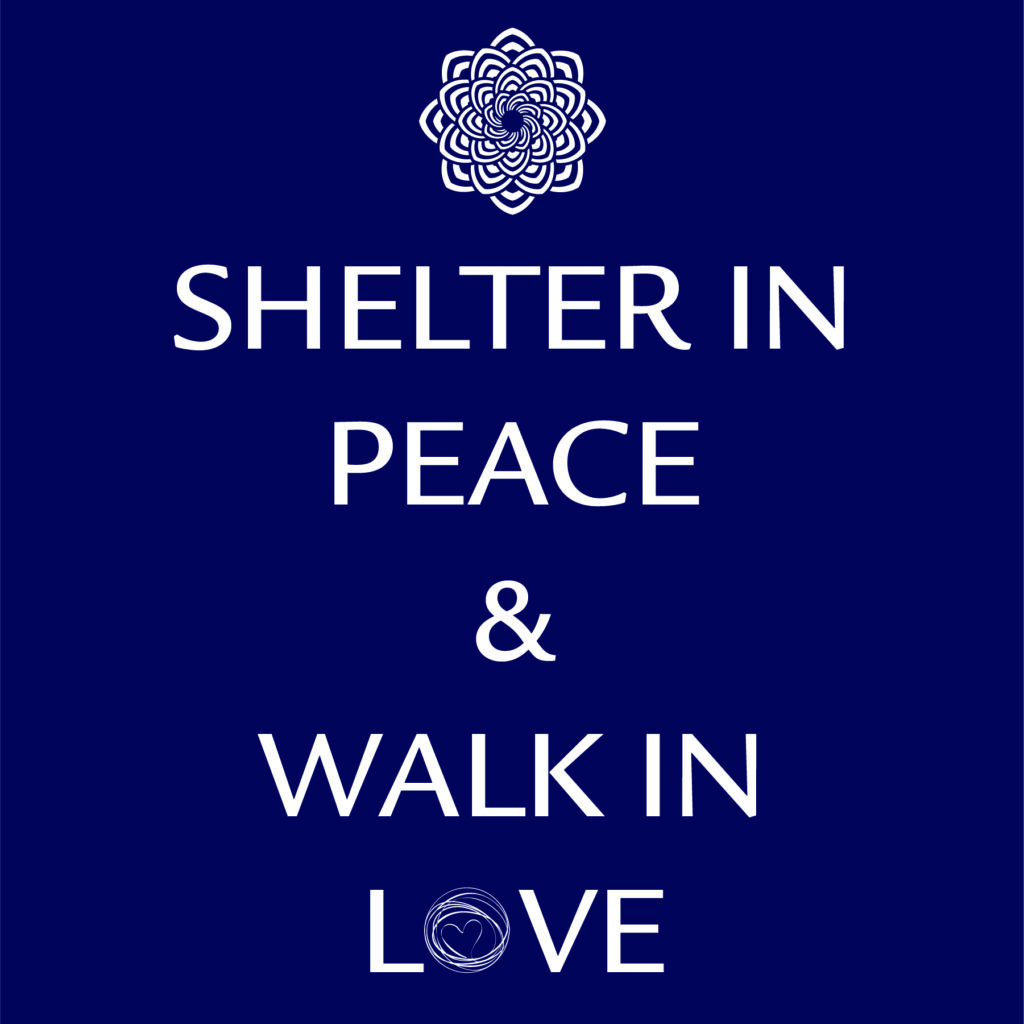 MAKE THIS THE BEST FUNDRAISER EVER!!
It is here! Our 2020 VIRTUAL Fundraiser! By clicking the link below, you will be taken to our catalog, which you can view on your computer, your mobile phone, download as a pdf to keep on your desktop, or print individual pages, if you would like.
2020 ST. EDWARD'S FUNDRAISER CATALOG
This catalog/program is all you will need to learn how to buy ticket bundles for our basket raffle; view and make your notations for the incredible basket lineup we have for this year; how to order/pay for your boxed dinner; and where to tune in on our YouTube Channel for our St. Edward's most awesome variety show/raffle drawing ever, on October 24th at 4:30 PM! Why is it awesome? Because your participation helps the ministry of St. Edward's and it provides light and life to all of us during this time of Covidtide. So, as you "shelter in peace" remember to always "walk in love" and we look forward to inviting all, whether you are a St. Edward's parishioner, or a member of our wider community, to participate in this wonderful fundraising event for 2020.
Please note these important dates on your calendars so you do not miss out!
Ticket sales for catalog items start Monday, September 28th and run through Monday October 19th.
Boxed dinners must be reserved by Friday, October 16th.
Event will be featured on our YouTube Channel on Saturday, October 24th at 4:30 PM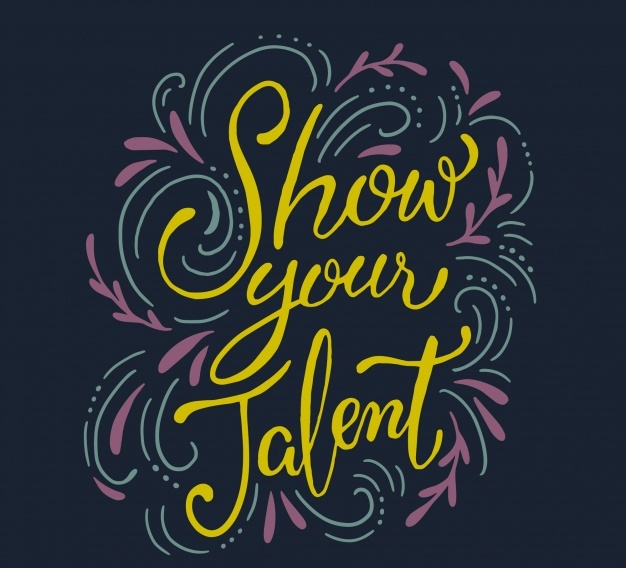 ---
2019 ST. EDWARD'S 15TH ANNUAL HOLIDAY COOKIE & CRAFTS SALE
2019 cookie sale was a fantastic success! Thank you to all the volunteers, bakers, crafters who take on this ministry every year and do such a fantastic job. We raised a total of $3,085.80! And, of course, thank you to all who come each year and buy these delicious cookies, baked goods and our *NEW* crafts. Without the community support, we would not have such great fundraising success!
---
2019 Trivia Night was an absolute success! Fun and fellowship was had by all and we met our fundraising goal (and exceeded it!) with a total of $4,220! Thank you to all who came to the event, brought friends and family to the event, helped with set up and clean up of the event, donated to the event by making wonderful baskets, took a chance on basket raffle tickets, bid for our silent auction items. Without your faithful participation, we would not have met our goal!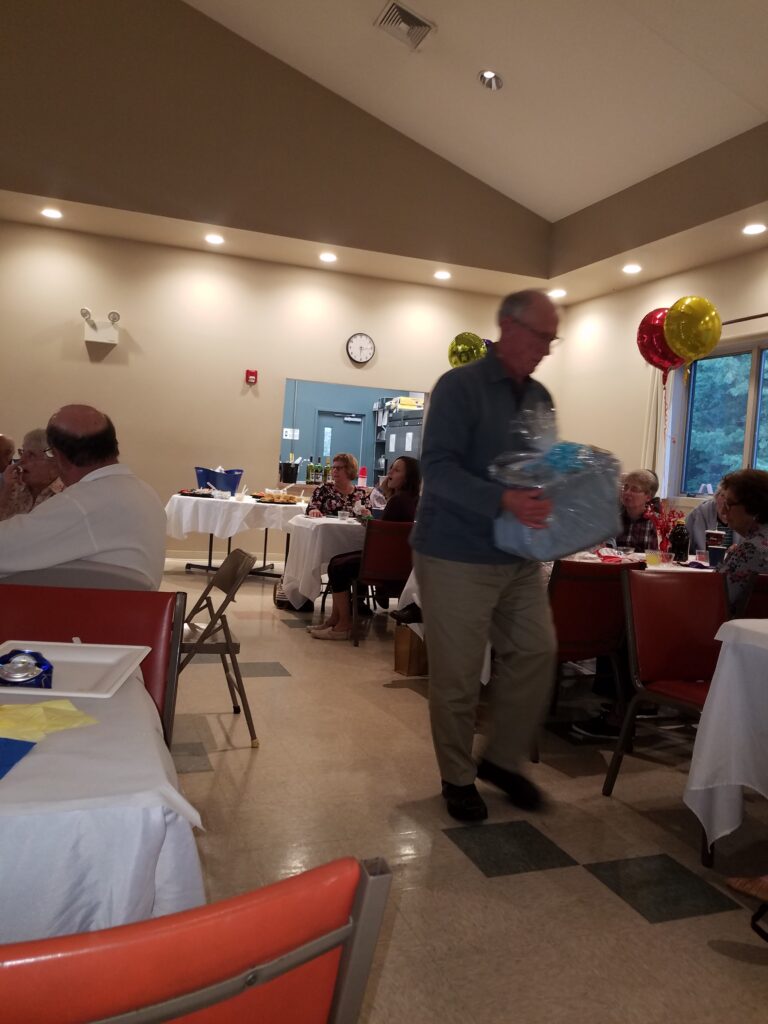 Many thanks to our wider community donors for their generosity in providing us with items to auction. Please make sure you visit them!
Go 'N Bananas Family Fun Center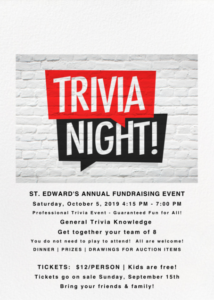 2019 BASKET RAFFLE AND SILENT AUCTION AND TRIVIA NIGHT EVENT
Lots of great baskets and Silent Auction items. Our baskets are quite special and most have a value in excess of $50 and up to well over $100. We also have a special "kids corner" baskets this year with 4 raffle baskets especially designed for our youth with games and gift cards we know kids will love! We have five Silent Auction items, also of significant value. Please help us achieve our goal this year of raising $4,000. The Trivia Night promises to be fun and exciting and filled with fellowship, great food, beverages and Prizes!!! Get a team together of 8 or inquire about having us put together a team! Never fear. . the TRIVIA is general and generic and is all meant to be enjoyed and for fun! A great way to meet fellow parishioners and have an evening of fun. Prizes will be for 1st, 2nd, and 3rd place teams and also prizes will be drawn throughout the evening from your dinner ticket number – so many ways to win! Great food, beverages, and dessert will round out the evening.
---
2018 ST. EDWARD'S 14TH ANNUAL CHRISTMAS COOKIE SALE
A BIG thank you to all of our bakers, volunteers, and most importantly COOKIE BUYERS who support our Annual Cooke Sale every year to help St. Edward's raise funds to support our ministry. this year, we raised over $2,300. And the cookie selection was FANTASTIC!!! Thank you!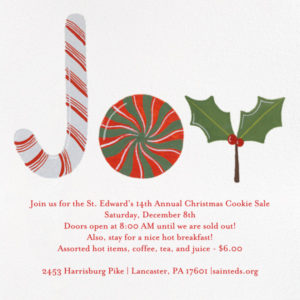 Click to enlarge image
---
2018 FUNDRAISER UPDATE:
The Oktoberfest-themed event was a wonderful evening of fun and fellowship. We had about 60 attendees who were entertained by Doug LaSala and his musical talent and Teri Mastrobuono with her unique and always entertaining storytelling and comedy sketches.
We had wonderful baskets to auction, as well as several silent auction items. We raised $3,291 in basket tickets, silent auction bids and event ticket sales. We hope to create a unique fundraising event for 2019 that will help us raise a new goal of $8,000 so that combined with our December Christmas Cookie Sale we can meet a $10,000 fundraising goal for 2019!
---
2018 FUNDRAISER – SAVE THE DATE: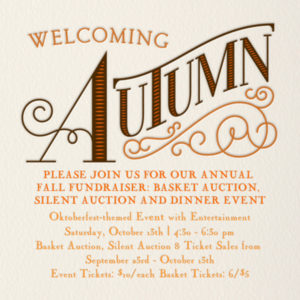 Click to enlarge image
St. Edward's Annual Fundraiser is sure to be another great event. Our theme for 2018 is "Oktoberfest" and we are looking forward to an evening of fun, fellowship and frivolity as we celebrate community with parishioners, family, friends and Father Casey in one of this fall's "must attend" events. Come and enjoy great food, entertainment, and the excitement of the Basket & Silent Auction.
In the coming weeks of July, we will be asking volunteers to sign up to make (or donate towards) our baskets for the auction. Our goal is to have 15-20 baskets and for this year we would like to focus on a food and beverage theme. Think out-of-the-box. . . coffee baskets, tea baskets, snack baskets, wine & cheese baskets, ice cream, foods from other countries, varieties of seasonings and sauces for cooking, baking baskets, craft beverage baskets, sweets and treats, entertainment baskets (with napkins, plates, cups, etc. for your guests' visits) . . the list is endless, fun (and delicious!)
Our timeline for donations, ticket sales and the event will be earlier this year. Baskets will be due by Sunday, September 16th.
Ticket sales for baskets and the event, as well as bids for Silent Auction items, begin Sunday, September 23rd and run through the event evening of Saturday, October 13th.
Tickets for the event are $10/each. Children are free.
Basket tickets are 6/$5
Help us meet our goal of $5,000 this year!
---
2017 FUNDRAISER UPDATE: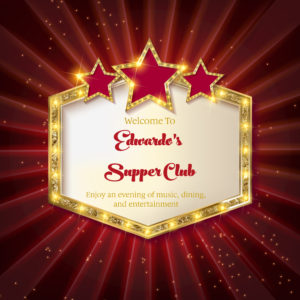 Our 3rd Annual Dinner Event and Auction, a New York Style supper club, was a true success! We raised over $4,200 and we thank you for your GENEROUS donations to our Annual Fundraising Event. Without YOU our efforts to raise funds for the ministry of St. Edward's would not be a success!
We thank all of our volunteers and donors and most especially Alessio's Mangia Mangia for the generous donation of their authentic sauces for our meal!
A special thanks to our musician, Doug LaSala, for his fantastic music during the event, and the talents of our very own St. Edward's parishioner, Joe Holwager for his magical talents.
2017 FUNDRAISING EVENTS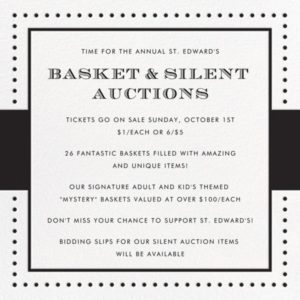 Click on image to enlarge
Mark your calendars for the Annual St. Edward's Fall fundraiser event! Starting Sunday, October 1st we will be hosting our Silent and Basket Auction.
BASKET AUCTION: Through the generous donations and creativity of our parishioners, and local merchants, we have created over 20 baskets for all to buy tickets and take a chance on. We have a wonderful selection of baskets this year that are perfect for yourself or for gift giving! Tickets for the baskets are $1/each of 6/$5. Winners will be drawn at the Supper Club dinner Event on Saturday, October 28th.
SILENT AUCTION: For 2017, we are focusing on a small selection of items for bidding. They include: Vacation home rentals, Lancaster Barnstormers Game Suite, and the famous Italian dinner (for delivery) by Ginny Kloepping.
Edwardo's Supper Club Event: Mark your calendar for Saturday, October 28th and be transported into a NYC Supper Club at St. Edward's. Dinner, music, entertainment, great fellowship, and fundraising should make this an evening to remember! Tickets go on sale October 1st and are $10/each.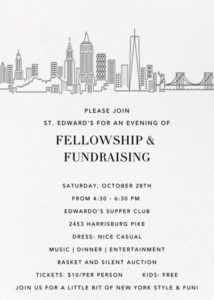 Click on image to enlarge
We want to thank our generous community merchants for their continued support of St. Edward's Fundraising Events. We hope you will support them!
---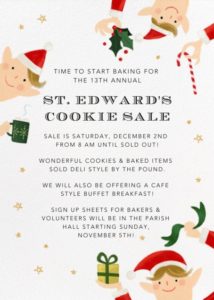 COOKIE SALE 2017 UPDATE: Our 2017 cookie sale was, once again, a HUGE success! thanks to all the bakers and volunteers. We raised over $2,300 this year!
COOKIES, COOKIES, COOKIES!!!! Guess what? The St. Edward's Christmas Cookie Sale is coming up on Saturday, December 2nd. That is not too far away to start thinking about baking. If you are interested in coming to St. Edward's on a Saturday and participating in a group baking session, please contact the parish office. If we have enough interest, we will work to schedule one in mid-November and will provide details. A sign up sheet for cookies will be in the parish hall starting November 5th. Let's make this year's cookie sale the biggest yet. St. Edward's has quite a great following now for our cookie sale and we pretty much sell out within an hour. So, the more cookies we make, the more funds we can raise! We will also be having our café breakfast, so if you would like to volunteer to help with that, please let the parish office know.
---
2016 FUNDRAISING EVENTS
Fall 2016 is here and it is time for St. Edward's fundraising event season! St. Edward's fundraising for 2015 raised over $6,700 for our ministries. See below for details on our first event!
Our Basket and Silent Auctions are in full swing and run through Saturday, October 22nd! That is when we will draw the ticket numbers for the baskets, as well as announce the winners of the Silent Auction. You are able to buy tickets and bid throughout the Night of Mystery event. Plus you have 3 more Sunday's to buy tickets and bid!!!

Click icon to enlarge
Our Night of Mystery Tickets are now on sale! If you missed last year's Mystery Cruise, please do not miss your opportunity to participate in an evening of fun, frivolity, door prizes, food and fellowship at this year's event! Tickets are $10/Adult Kids/FREE. Bring your friends and family!!
Click icon to enlarge
---
2015 FUNDRAISING EVENTS
Click icon to enlarge

St. Edward's 11th Annual Cookie Sale, held on Saturday, December 5th was a complete success! This year, with the cookie sale and hot breakfast, we raised over $2600. Thank you to all of our volunteers and bakers who made both events great fun. We are looking forward to next year and making even more cookies, so stay tuned. We have even had people call since the cookie sale to find out what day it will be in 2016 and they are marking theit calendars.

Click icon to enlarge
As you can see from our Night of Mystery highlights, our fundraising event was a big hit! The food, the fun, the fellowship, and, of course, the acting! It was all great fun and great FUNdraising, as we raised over $4,500 for the ministry of St. Edward's. Thank you, everyone. . . planners, participants, and parishioners who made the auctions and the Night of Mystery event a success! We look forward to many more!
If you would like to see the entire skit, click on the YouTube icon at the bottom of the web page and you will find the Night of Mystery "Whodunit" in two parts. It is great fun to watch.
Many thanks to the following local businesses who have supported St. Edward's this year in our fundraising efforts: Four Seasons Golf Club, Kitchen Kettle Village, Miss Calee's Eats n' Treats, Gold's Gym, Boutonniere Shoppe, Hot Z Pizza, Royer's Flowers, Landyshade Mulch Products, Dutch Apple Dinner Theatre, Wiley's Pharmacy, El Serrano.