There are many ministry opportunities at St. Edward's Episcopal Church.  We are working to create a "ministry handbook."  In the meantime, a great way to see how our ministries serve the church, the community, and each other, click here to see our 2020 Annual Report for details on our ministries from our ministry leaders.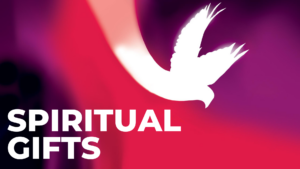 We all have spiritual gifts that we have received, and those which we can give.  Our first spiritual gift was the one we received from God in the form of our first breath.  And whether we realize it or not, we all possess spiritual gifts from God that are meant to be used in His service.
Recognizing, and then giving, your spiritual gifts are vital to the successful mission and ministry of a parish. The Body of Christ is made up of many members.  As Christians, we are all ministers of the church and we all possess unique gifts, given by the Spirit, that allow us to carry out the Great Commission.
The Commissioning of the Disciples
Now the eleven disciples went to Galilee, to the mountain to which Jesus had directed them. When they saw him, they worshiped him; but some doubted. And Jesus came and said to them, "All authority in heaven and on earth has been given to me. Go therefore and make disciples of all nations, baptizing them in the name of the Father and of the Son and of the Holy Spirit, and teaching them to obey everything that I have commanded you. And remember, I am with you always, to the end of the age."   (Matthew 28:16-20)
What are your Spiritual Gifts?  Below you will find two resources that can help you determine your Spiritual Gifts Inventory.  This is a wonderful way to begin your participation in ministry.  We need your unique gifts to help us accomplish the ministry and mission of St. Edward's!  By starting your journey of discipleship and spiritual practice with this exercise, you will discover how you can best serve in a ministry that connects with you.
We hope you enjoy this exercise of discovery as you learn what makes you unique, and inspires you to travel with your fellow Episcopalians as we follow Jesus into "loving, liberating and life-giving relationship with God, with each other, and with the earth."
Click here to download your Spiritual Gifts Inventory Exercise
Click here to download your Gifts and Talents Inventory worksheet
Please contact the parish office to learn more about the various ways you can serve, in ministry, at St. Edward's.
The Ministries of St. Edward's
Adult Spiritual Formation – Bob Mosebach
Altar Guild – Julie Hoff & Bev Hess
Building & Grounds – Mike Freshwater
Choir/Director of Worship Music – Karen Waddill
Coffee Hour – Parish Office and Parishioner Volunteers
Coffee House Praise Band – Randy Westgate
Cultural Events – Randy Westgate
Faith in Action – Beth Lynch
Finance Committee – Kevin Milligan
Flowers – Parish Office and volunteers
Fundraising – Bev Hess and Michelle Bentley
Historian – Elaine Radcliffe
Knit Wits/Needle Arts – Gail Irons
Lectors – Bob Mosebach
LEMs – Bob Mosebach
Memorial Garden – Ginny Kloepping
New Member Ministry – Mary Snyder and Nancy Mannion Co-Chairs
Pastoral Care/Stephen Ministry – Peggy Hanzelman
Scepter Newsletter – Mac Miller
Stewardship – Committee Members
Sunday School Program – Leslie Arnold
Ushers – Buddy Yeager
Vestry – Randy Westgate, Senior Warden
Widow's Group – Peg Hanzelman and Ethel Lawrence