St. Edward's is Alive, in so many ways. . .
Join us in worship, in-person on Sundays at 8:00 AM – Rite I and 10:00 AM – Rite II, and on Wednesday for our 12 Noon Contemplative Eucharist with Meditation and Healing Prayer.
You can also watch our principal service of Rite II via our St. Edward's YouTube Live Channel. Stay informed with our Monday, Thursday, and Saturday messages from St. Edward's. We post our Saturday email message which details our worship service bulletins, YouTube link, and weekly announcements on our website (under "recent posts and news").
---
SUNDAY SERVICES
Click here to view our services and events.
We have resumed our in-person worship! See service offerings and times below.
8:00 AM – Holy Eucharist Rite I – In-person worship
10:00 AM – Holy Eucharist Rite II – In-person and St. Edward's YouTube channel live streaming
Children's Nursery – 9:05 – 11:15 am ( Sundays for children up to Age 4 ) – For the safety of our small children, and our nursery caregivers, during Covidtide, we will not have our nursery available.
WEDNESDAY SERVICE
12:00 Noon – Join us for our noonday service of Contemplative Eucharist, Meditation, and Healing Prayer held in our Chapel space, in the parish hall wing.
---
HOLY WEEK AND EASTER
Palm Sunday: 8:00 AM Rite 1 and 10:15 AM – Rite II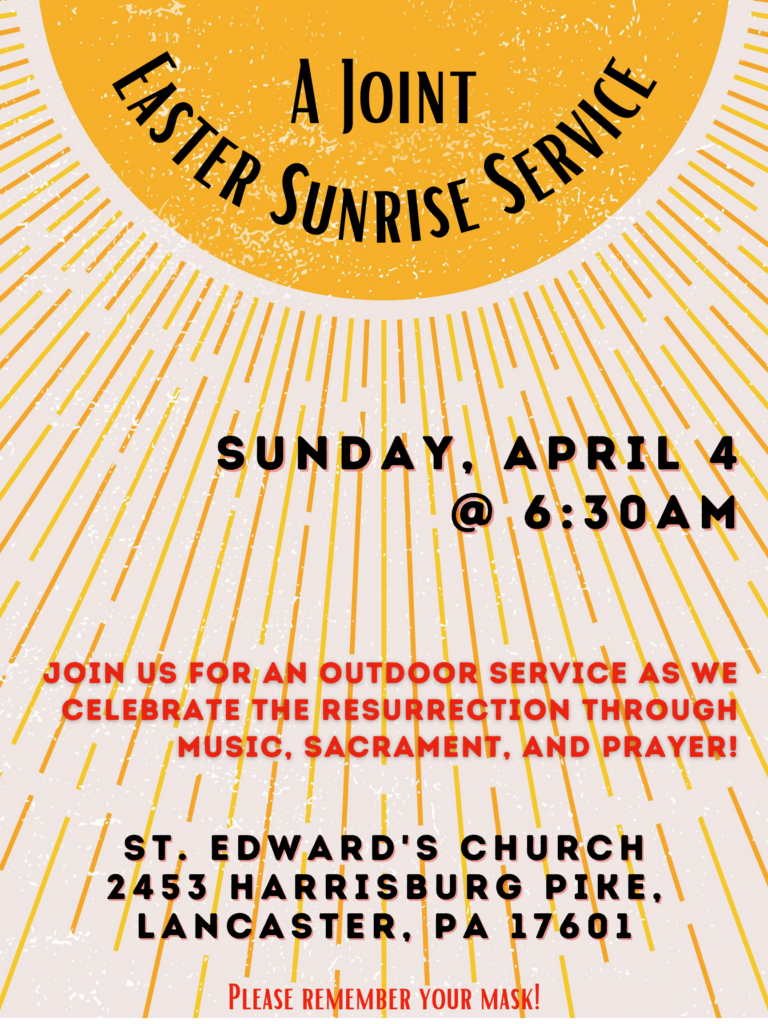 ---
---
LENTEN OFFERINGS
The Way of the Cross/Lent 2021: The Reverend Dr. Rick Bauer, St. Edward's Episcopal Church in Lancaster and The Reverend Ingrid Andersen, St. Luke's Episcopal Church in Mount Joy, welcome you to our combined presentation of the Way of the Cross. We extend a warm invitation to our parishioners, and to those in the wider community, to participate in this weekly devotion on Fridays during the season of Lent. We thank Edward Webber for his wonderful artwork, capturing each of the fourteen Stations of the Cross. It is our sincere hope that this will serve as an invitation to prayer and contemplation as we continue to worship from our homes. You can also click here for the service and service pdf:
---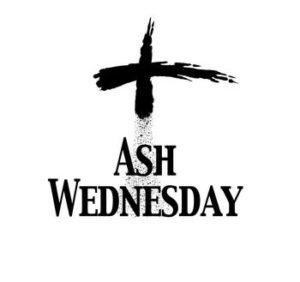 Ash Wednesday – February 17, 2021 – 12 Noon
Join St. Edward's, Lancaster and St. Luke's, Mount Joy as we celebrate, together, our Ash Wednesday liturgy, from St. Edward's, live streamed, via our YouTube channel. The Reverend Dr. Rick Bauer will be celebrating, with The Reverend Ingrid Andersen preaching.
Join our service by tuning into the St. Edward's YouTube Channel (click here).
We will be offering special cards, with the cross drawn from ashes blessed for Ash Wednesday and noted with the prayer that is said during the imposition of ashes, from The Book of Common Prayer. We will also offer small containers of blessed ashes for those who would like to self-impose the ashes, at home, during the noonday service. These items will be available for pick-up on February 15th and February 17th from 11 AM at St. Edward's.
Please join us, as Saint Luke's Episcopal Church has invited sister parishes to an Ash Wednesday service of Loss and Lament
Time: Feb 17, 2021 07:00 PM Eastern Time (US and Canada)
Join Zoom Meeting
https://us02web.zoom.us/j/84148020832
Meeting ID: 841 4802 0832
---
Stay connected to St. Edward's for information about Lenten offerings during our 40 days of reflection, meditation, prayer, fasting, & acts of charity and kindness.
---
EVENING PRAYER SERVICE OFFERINGS
FRIDAY EVENING PRAYER Click here for our flier to download
Please join us for our virtual service of Evening Prayer, on Zoom, commencing every Friday at 7:00 pm, led by our choir director, Patrick Ishler.
Ever wonder, what is Evening Prayer in the Episcopal Church? Here is a little history from episcopalchurch.org library:
One of the principal Daily Offices. Evening Prayer has been the title for the Evening Office in Anglican worship since the 1552 revision of the Prayer Book. Evening Prayer may begin with an opening sentence of scripture and with the confession of sin. The Invitatory may include the canticle Phos Hilaron, an ancient hymn praising Christ at the lighting of lamps at sunset. The office continues with a selection from the Psalter, readings from scripture followed by canticles (typically the Magnificat and Nunc dimittis), the Apostles' Creed, the Lord's Prayer, a set of suffrages, one or more collects, and the dismissal. Evening Prayer may also include an office hymn or anthem, the General Thanksgiving, a Prayer of St. Chrysostom, and a concluding sentence of scripture.
We invite you to end your week with the experience of Evening Prayer. By simply clicking on the link below and adding the join code, you will be engaged in the service with ease.
Join us on Zoom:
https://us02web.zoom.us/j/86327105082
Join Code: 863 2710 5082
One tap mobile
+13017158592,,86327105082# US (Germantown)
+13126266799,,86327105082# US (Chicago)
Sunday Evening Prayer: Each Sunday at 7:00 PM. Anyone interested can send Br. David Rutledge an email to be put on an email distribution list: drutledge1225@gmail.com
Join Zoom Meeting
https://zoom.us/j/95355083080
Meeting ID: 953 5508 3080
---
2020 Christmas Eve and Christmastide services at St. Edward's
Click here to view St. Edward's Christmas Eve service: The Feast of the Incarnation
Click here to view the Service of Lessons and Carols from our own Lancaster Convocation
Click here to view the wonderful music of the Central PA Episcopal Collaborative Choir
---
2019 CHRISTMAS SERVICES