Dear friends,
On Saturday afternoon, we will be sending our message with links to all things for Sunday worship.
We continue to raise funds for our Memorial Garden Phase One project. Through the generosity of so many, we have raised $7,250 to date towards our fundraising goal of $12,500 and we have initiated various aspects of Phase One this past week in clearing, weeding, and meeting with contractors.  The response is so gratifying and tells us how very important it is to beautify and steward this sacred space.
Our Basket Auction is filling out, as we now have 16 baskets. We are seeking 4 more baskets! If you would like to contribute a basket but need us to do the "shopping" for you, please let us know!  We are working on a fun and inventive way to hold our auction this fall (with baskets due mid-September), so stay tuned!!
I am happy to report that we have our first cookbook recipe submissions, (thank you, Carol and Carl Cotnoir)!  This could be a very interesting, fun, and exciting publication for our parish with the sharing of our most favorite recipes, as well as tapping into their creative spirit with artistic submissions to help us compile a wonderful and spirited book that embodies St. Edward's parish family.  think outside the box for your creative expressions.  Because the book will be digital, we are able to insert things like YouTube videos that you might consider creating with your talent.  We hope this is the beginning of many more submissions.
SOCIAL OUTREACH MINISTRY NEWS:
We are also participating in a school supply drive for the Landisville Primary Center for the 2020/2021 school year.  Supplies needed are:
Pencils
Colored pencils
Crayons
Erasers
Notebook paper
Colored paper
Glue sticks
Tissues
Hand Sanitizer
Dry Erase Markers, fine pt., black
Dry Erase Markers, fine pt., red
Folders without clasps
Let's help our neighborhood children be ready to learn!  There will be a drop off box in the narthex on Sundays and in the front entry just inside the red doors during the week for supply drop off.  We thank you for your generosity in helping St. Edward's reach out to the wider community.
Hempfield Area Food Pantry
Good News!  The pantry is now accepting food items, again!  Current requests are:
One or 2 pound packages of rice, canned fruit (no fruit cocktail no Mandarin oranges)
Canned tomatoes, canned peas, canned kidney beans, canned soup (no chicken noodle) and cereal.
If you would like to donate food, please bring on Sunday and drop in baskets in the narthex.  If you would like to donate food and do not come to services but would like a curbside drop-off, please call the parish office to make arrangements. We want to make certain we are here to accept your donation.
—
Continue reading below for the details for our Friday and Saturday worship and fellowship activities.
"All the days of the poor are hard, but a cheerful heart has a continual feast."
– Proverbs 15:15
Be well. Stay safe. Keep the faith.
Michelle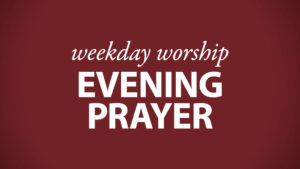 We invite you to Evening Prayer this Friday evening at 7:00 PM.  This is a wonderful way to peacefully end our week and is led by Patrick Ishler.
Join us on Zoom:
https://us02web.zoom.us/j/86327105082
    Join Code:  863 2710 5082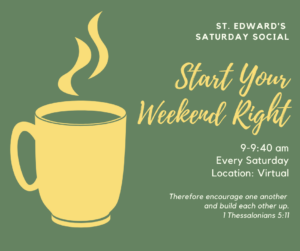 Join us for our Virtual Saturday Social from 9 AM – 9:40 AM Saturday morning on Zoom.  It will be hosted by Christina and Joe McLaughlin. So join us!  Ask questions, give us your feedback and enjoy some fellowship THIS SATURDAY, July 25th at 9:00 AM.  Pass code and join code were in the Thursday email message.