Dear parishioners and friends of St. Edward's,
Father Rick and all of us at St. Edward's welcome you to our Sunday worship, tomorrow, the Eighteenth Sunday after Pentecost:  Proper 21.  Please note our Rite II service is at 10 AM.  Whether you will be joining us in-person, or via our live stream on our St. Edward's YouTube Channel, please know we are glad to be worshipping with you!  All of the important links you need to our YouTube channel and our Sunday service bulletins are listed below.
If you are joining us for in-person worship and fellowship, we prayerfully ask that you wear your mask as we gather together in community.
We welcome Father David Bateman as our celebrant this Sunday.  David+ served as interim rector of St. Edward's during our transition from 2019 – 2020, when our time together was cut short due to COVID-19.  We never had the chance, as a parish, to thank David+ for his ministry at St. Edward's.   We are filled with gratitude and joy to have Father David with us this Sunday! Please join us during our coffee hour as we gather together in fellowship and take time to thank David+ for his ministry to our parish family during our transition.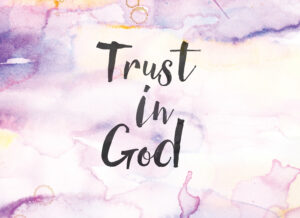 Our faith guides us to place our "Trust in God."  As we conclude our week, enveloped in such a glorious day, let us give thanks for this day and for the blessing of such faithful and pastoral shepherds of our parish flock as we pray:
For Knowledge of God's Creation
Almighty and everlasting God, you made the universe with all its marvelous order, its atoms, worlds, and galaxies, and the infinite complexity of living creatures: Grant that, as we probe the mysteries of your creation, we may come to know you more truly, and more surely fulfill our role in your eternal purpose; in the name of Jesus Christ our Lord. Amen.
Rest well.  Keep the faith. Journey in peace.
Michelle
—
Click here to connect to the service for the Eighteenth Sunday after Pentecost: Proper 21, September 26th, which will be live streamed at 10:00 AM on Sunday. 
Click here to download our 10:00 AM Rite II service bulletin for the Eighteenth Sunday after Pentecost:  Proper 21 service
Click here to download our 8:00 AM Rite I service bulletin for the Eighteenth Sunday after Pentecost: Proper 21 service
*If you enjoy the St. Edward's Episcopal Church, Lancaster, PA YouTube channel, and you have a Gmail or YouTube account, the next time you tune in, please click the red SUBSCRIBE button on the home page to be included as a subscriber to St. Edward's!  We would welcome the support and we will not generate any unwanted notifications to you.  Become a part of our St. Edward's community!   Thank you to those who have subscribed!

Well. .  October is just around the corner and with the fall season comes what has become a St. Edward's tradition. . .our St. Edward's Annual Basket Raffle.  We have transformed the Children's Chapel space in our Sunday School wing into a wonderful "Giving Sanctuary" with 33 beautiful basket offerings filled with Peace, Love, and Joy curated by members of our parish family.  There is something for everyone!!!  You will not want to miss out on a chance to participate in this year's raffle!!! We launch next Sunday, October 3rd with pre-bundled ticket packages for sale and small catalogs with raffle instructions available in the narthex and in the parish hall near the coffee table.  Your viewing and selections can be done at your leisure. To make it convenient to all, we will be selling tickets Sundays, as well as Tuesdays – Fridays.  Please know that if you miss a Sunday, you can stop by on those weekdays between 11-3 to purchase tickets.  We will also post details online, on our Fundraising page, in the event that you would like to view virtually.  And, you can always reach out to the parish office for guidance and help in participating in whatever format you are comfortable with.   Special treats and prizes will be featured each week!  Join us for 5 weeks of FUNdraising all to support the ministry and mission of St. Edward's and help us meet our fundraising goal of $5,000!
Faith In Action Initiatives:


Hempfield Area Food Pantry Update:
Requested Items for October:  Cereal; Large jelly; Egg noodles; Penne pasta; Canned carrots; Canned yams; Canned green beans; Canned corn; Canned mixed vegetables; Canned kidney beans; Canned garbanzo beans; Canned black beans
—
Spiritual Formation and Evening Prayer Offerings:
We have so much going on during our fall season, don't miss out on the many opportunities available, in-person, and via Zoom. Our link, below, to our Adult Spiritual Formation page has detailed information regarding our upcoming Lunch & Learn, commencing Friday, October 1st.  If you click here, you can download our Fall Adult Spiritual Formation pdf.
Adult Spiritual Formation at St. Edward's – click here.
—

Sunday Evening Prayer – September 26th at 7:00 PM:  We use the 1979 Book of Common Prayer and the readings for the Sunday Lectionary.  It is a quiet service and a good way to end the weekend and prepare for the week to come.  Anyone interested can send me an email to be put on an email distribution list:  [email protected]
Sunday Evening Prayer @ 7:00pm
Join Zoom Meeting
https://zoom.us/j/95355083080
Meeting ID: 953 5508 3080
—
Opportunities to gather in community in spirituality and fellowship:
Here you will find news of gatherings outside of St. Edward's that we offer in community with our sister parishes and other spiritual resources.
Spiritual Retreat Opportunity:
Anticipating Winter:  Silent Retreat at The Wittel Farm
https://parishresourcecenter.org/events/silent-retreat-at-the-wittel-farm/
November 6, 2021
9:00 am – 4:00 pm
Cost: $90
Location: 1753 Mill Road, Elizabethtown, Pennsylvania, 17022
Questions?  Please contact Joyce Kamm.
Blessing of the Animals:  Friday, October 1st starting at 6 PM at St. John's Episcopal Church, 321 West Chestnut Street, Lancaster.  In partnership with St. Edward's and St. Thomas, St. John's will be hosting the Blessing of the Animals service in honor of St. Francis of Assisi, patron saint of the environment and animals. The service will be outside, in their courtyard.  For more information, please visit the St. John's website. We are also seeking 2-3 volunteers to help at St. John's that evening to help set up and direct people.  If you wish to volunteer, please call St. John's and let them know!!  Their phone number is: 717.299.1188
Besides prayers, calls, cards and emails, there is one more thing you can do to support St. Edward's. Please keep up-to-date with your pledge or regular contribution.  Pledges/giving can be mailed to the church, and we also have an easy-to-use "Give to St. Edward's" button on our website that links to our secure Paypal page, as well as a "Donate" button on our YouTube Channel home page.
To assist parishes, the diocese has set up online giving for each parish.  If you feel comfortable making your weekly giving or pledge donation in this manner (it is a secure giving tool), simply go to the diocesan web site, click on the tab up top and it will take you to a page where you can scroll down, find St. Edward's, and continue with making your contribution!  Thank you for maintaining your faithfulness through your financial stewardship!
Click here if you would like to donate online through the diocesan portal. You will scroll down to find St. Edward's under Lancaster. The portal is a secure giving site.
—
We are providing links, below, that may be helpful and informative to you:
Lancaster County, PA COVID-19 Hub