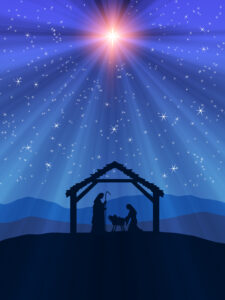 Of the Incarnation
O God, who wonderfully created, and yet more wonderfully restored, the dignity of human nature: Grant that we may share the divine life of him who humbled himself to share our humanity, your Son Jesus Christ; who lives and reigns with you, in the unity of the Holy Spirit, one God, for ever and ever. Amen.
Dear parishioners and friends of St. Edward's,
Father Rick and all of us at St. Edward's welcome you to our Christmas Eve worship, tomorrow. Whether you will be joining us in-person, or via our live stream on our St. Edward's YouTube Channel, please know that we are glad to be worshipping with you! All of the important links you need to our YouTube channel and our Christmas Eve service bulletin are listed below.
If you are joining us for in-person worship at the 6 PM or 8 PM service, we prayerfully ask that you wear your mask as we gather together in community.
We invite you to join St. Edward's Christmas Day with a recorded prayer and message from Father Rick which will be available for viewing Christmas morning. The link is noted below.
Rest well. Keep the faith. Journey in peace.
Michelle
—
Click here to connect to the service for Christmas Eve which will be live streamed at 8:00 PM
Click here to download our Christmas Eve service bulletin
Click here to connect to our Christmas Day message, on YouTube, which will be available on Christmas morning
—
*If you enjoy the St. Edward's Episcopal Church, Lancaster, PA YouTube channel, and you have a Gmail or YouTube account, the next time you tune in, please click the red SUBSCRIBE button on the home page to be included as a subscriber to St. Edward's! We would welcome the support and we will not generate any unwanted notifications to you. Become a part of our St. Edward's community! Thank you to those who have subscribed!
—
Besides prayers, calls, cards and emails, there is one more thing you can do to support St. Edward's. Please keep up-to-date with your pledge or regular contribution. Pledges/giving can be mailed to the church, and we also have an easy-to-use "Give to St. Edward's" button on our website that links to our secure Paypal page, as well as a "Donate" button on our YouTube Channel home page.
To assist parishes, the diocese has set up online giving for each parish. If you feel comfortable making your weekly giving or pledge donation in this manner (it is a secure giving tool), simply go to the diocesan web site, click on the tab up top and it will take you to a page where you can scroll down, find St. Edward's, and continue with making your contribution! Thank you for maintaining your faithfulness through your financial stewardship!
Click here if you would like to donate online through the diocesan portal. You will scroll down to find St. Edward's under Lancaster. The portal is a secure giving site.
With the news of COVID cases on the rise in Lancaster County, we continue to provide the links, below, that may be helpful and informative to you. We encourage people to stay informed and to please wear your masks when in worship at St. Edward's. Please rely on your common sense as you decipher your comfort level for in-person gatherings, individual health conditions, and wellness. Our priority is always to care for one another and these simple recommendations will help us celebrate this season of joy safely.
Lancaster County, PA COVID-19 Hub
Vaccine Distribution Information PA DOH