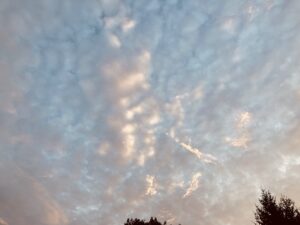 The Meaning of Faith
Hebrews 11:1-3
Now faith is the assurance of things hoped for, the conviction of things not seen. Indeed, by faith our ancestors received approval.  By faith we understand that the worlds were prepared by the word of God, so that what is seen was made from things that are not visible.
Dear parishioners and friends of St. Edward's,
Father Rick and all of us at St. Edward's welcome you to our Sunday worship, tomorrow, the Twelfth Sunday after Pentecost:  Proper 15.  Whether you will be joining us in-person, or via our live stream on our St. Edward's YouTube Channel, please know we are glad to be worshipping with you!  All of the important links you need to our YouTube channel and our Sunday service bulletins are listed below.
Rest well.  Keep the faith. Journey in peace.
Michelle
—
Click here to connect to the Twelfth Sunday after Pentecost: Proper 15 service, August 15th, which will be live streamed at 10:15 AM on Sunday. 
Click here to download our 8:00 AM Rite I service bulletin for the Twelfth Sunday after Pentecost: Proper 15 service
Click here to download our 10:15 AM Rite II service bulletin for the Twelfth Sunday after Pentecost:  Proper 15 service
We prayerfully request all who will worship with us,  in-person on Sunday, to wear your masks.  We have included links at the bottom of this email message, for those who may be looking for informative County resources.
*If you enjoy the St. Edward's Episcopal Church, Lancaster, PA YouTube channel, and you have a Gmail or YouTube account, the next time you tune in, please click the red SUBSCRIBE button on the home page to be included as a subscriber to St. Edward's!  We would welcome the support and we will not generate any unwanted notifications to you.  Become a part of our St. Edward's community!   Thank you to those who have subscribed! 
—
We also wanted to take this opportunity to share with you important announcements regarding upcoming events, as well as prayer and Adult Spiritual Formation opportunities via direct links noted below.  Stay tuned to our weekly emails and web site posts for updates on specific details. We invite you to celebrate with us, as a community of faith!
Faith In Action Initiatives:
Backpack Drive
It's Back-to-School time again!  As in the past, we will be helping Hempfield students be prepared for school; but, this year will be a little different.  Instead of collecting crayons, pencils, etc., we will be collecting backpacks!  Specifically, we are looking for backpacks for older students.  Think plain colors and large sized.  If you're not sure of what to buy, you may donate by writing a check to St. Ed's with 'backpack drive' on the memo line and Faith in Action will buy the backpack.  All backpacks will be donated to Hempfield Student Services.  School social workers will gift the backpacks to the students that they work with and help in other ways.  Any additional funds will go toward replacement ipad charging cords.  We have experienced such generosity, gathering 40 backpacks and over $550 in monetary donations! We will be accepting donations through August 22nd and will be blessing the back packs next Sunday.  If you are still considering donating to this important Faith in Action initiative, please prayerfully consider making a monetary donation, as there is a need for replacement cords and calculators that we could fulfill by supplementing our backpack donations with a monetary gift.
—
Hempfield Area Food Pantry Update:
Requested items:  Canned fruit; Canned mixed vegetables; Canned garbanzo beans; 1 lb. packages of rice; 2 lb. packages of rice; Noodles; Boxed pasta; Pasta sauce; Cereal; Oatmeal (regular or quick NOT instant).
Parish News:
Confirmation/Reception Classes:  If you would like to be a candidate for Confirmation or Reception into the Episcopal Church, during our Bishop Visitation on Sunday, October 10th, please contact the parish office by Friday, August 20th.  Once we have a list gathered, we will send out an email to choose dates/times for 3 weeks of classes + make-up session, aligned with the schedule Father Rick mentioned on Sunday. If you have questions about this sacramental rite you would like answered, as you discern becoming a candidate, this fall, please contact Father Rick.  You may also click HERE to read about this sacramental right from The Episcopal Church website.
—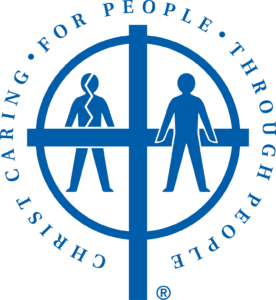 Stephen Ministry Training:  Father Rick and Dina Ishler will be commencing training of Stephen Ministers in September.  If you feel you may be called to explore this pastoral ministry, please contact Father Rick with your questions.  You may also contact the parish office to sign up.  Once we have participants, we will put forth a training schedule.
—
We want to express our deep gratitude for the generosity of our parish family in participating in The Reverend Canon Stephen C. Casey Memorial Fund.  Through your donations, we will embark on the beautification projects outlined in the booklet presented earlier this summer, with anticipated completion dates throughout the fall.  Please stay posted to our weekly emails for progress updates.
—
St. Edward's Annual Basket Auction:  With an incredible amount of enthusiasm and generosity from our parish, we have met our commitment to feature 25 baskets for our fall fundraiser!  We look forward to the wonderful creations that will be available for our raffle.  Stay tuned starting September 13th for information on how our raffle will proceed this year and how you can purchase tickets to our October Trivia Night event.
—
SCEPTER REMINDER:  There will be no Scepter in August, but looking forward to September, Michelle will be on vacation August 30-September 10, consequently  the September Issue will need to be completed by August 29th.  Therefore articles, pictures and announcements for the September Scepter will have to be submitted no later than Friday, August 20th.  Pictures from your summer travels, family get togethers, celebrations, warm weather activities, etc. would all be welcome. Please send items to: HJ_Miller@outlook.com
—
Reminder:  If you are not coming to church for in-person worship and would like to receive your directory (or any other materials!) please contact the parish office.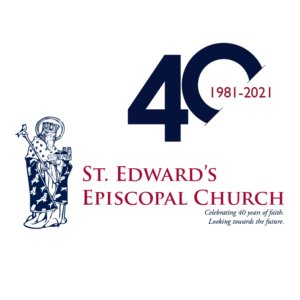 We are very excited at the robust response we have received for this very special event!  We look forward to gathering in faith and fellowship on September 12th!!!
—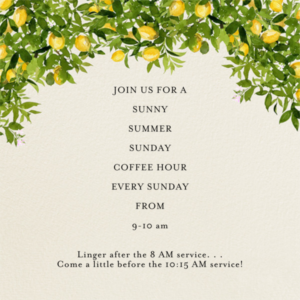 COFFEE HOUR IS TOMORROW BETWEEN 9-10 AM.  You will have the opportunity to pick up an FAQ sheet on coffee hour hosting.  If you are interested in signing up for any Sunday, except the first Sunday of each month, through the fall, click the link below for sign-up and information!
Click here to connect to Google docs sign-up sheet and coffee hour information.
—
Spiritual Formation and Evening Prayer Offerings:
The Book of Joy – Summer Lunch & Learn
St. Edward's is offering a full complement of Adult Spiritual Formation during the summer months!  Click here for more information about our summer offerings.
Please visit our Christian Formation page to explore the wonderful weekly lesson and activity postings for youth, from Leslie Arnold, Sunday School ministry leader. Click here for the Christian Formation page.
—
Sunday Evening Prayer – August 15th at 7:00 PM:  We use the 1979 Book of Common Prayer and the readings for the Sunday Lectionary.  It is a quiet service and a good way to end the weekend and prepare for the week to come.  Anyone interested can send me an email to be put on an email distribution list:  drutledge1225@gmail.com
Sunday Evening Prayer @ 7:00pm
Join Zoom Meeting
https://zoom.us/j/95355083080
Meeting ID: 953 5508 3080
—
Besides prayers, calls, cards and emails, there is one more thing you can do to support St. Edward's. Please keep up-to-date with your pledge or regular contribution.  Pledges/giving can be mailed to the church, and we also have an easy-to-use "Give to St. Edward's" button on our website that links to our secure Paypal page, as well as a "Donate" button on our YouTube Channel home page.
To assist parishes, the diocese has set up online giving for each parish.  If you feel comfortable making your weekly giving or pledge donation in this manner (it is a secure giving tool), simply go to the diocesan web site, click on the tab up top and it will take you to a page where you can scroll down, find St. Edward's, and continue with making your contribution!  Thank you for maintaining your faithfulness through your financial stewardship!
Click here if you would like to donate online through the diocesan portal. You will scroll down to find St. Edward's under Lancaster. The portal is a secure giving site.
—
We are providing links, below, that may be helpful and informative to you:
Lancaster County, PA COVID-19 Hub